Manufacturing Trends: New Decade, New Me
Laura Broman | May 13, 2021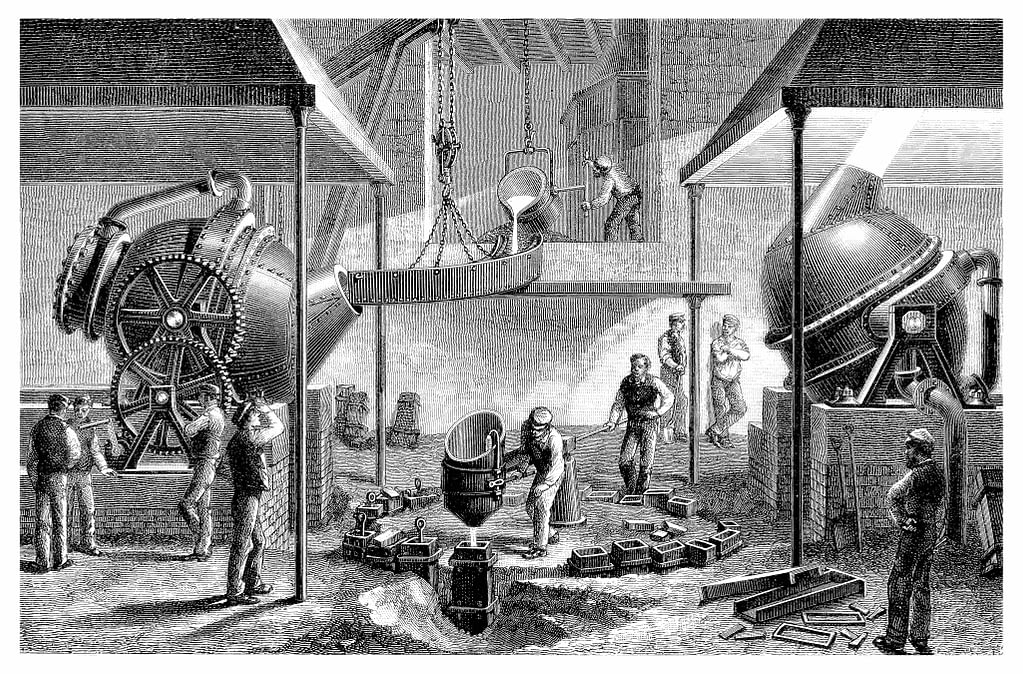 Welcome back to another installment of New Year, New Challenges, where we lay out some of the biggest changes our clients and readers can expect to see in their given field as our planet starts its next lap around the Sun. Our topic this week: manufacturing trends.
Earlier, we took a look at each of the major industries our clients deal in, such as HVAC, building materials, and so on. Now, we're getting a bit more general about it and are looking at two major camps: people who sell stuff and people who make stuff. Also known as distributors and manufacturers if you want to get all technical about it.
As we emerge from the disruption of COVID-19, both of these groups are looking for ways to return to the pre-pandemic levels of prosperity that we'd closed out the previous decade with. But we'll come back to distributors later—for now, let's take a look at trends for manufacturers: what kind of stuff is being made, how it's being made, and who's selling the stuff.
What: Innovation Nation
If there's one thing we don't need to tell you, it's that innovation is the name of the game. As the world plunges headfirst into the Fourth Industrial Revolution, or Industry 4.0 to use its more modern name, the pressure is on for manufacturers to continually evolve and upgrade their products to fit end user demands, expectations, and manufacturing trends.
Whether your end users are businesses or individual consumers, that means ever-rising standards for UX and UI. Everything should be streamlined, integrated, and easy to understand. An increasing number of the products in our everyday lives and work spaces are connecting to one another on the Internet of Things (IoT), that digital infrastructure that allows you to turn the temperature in your house down from your smartphone.
In a recent survey, PwC found that 70% of manufacturers are prioritizing IoT projects of development, and 93% of executives feeling that IoT's rewards outweigh its economic risks. That's not to mention the predicted rollover from 4G connections to 5G, the next generation in wireless tech. The International Data Corporation (IDC) predicts 5G connections to grow from 10 million to over 1 billion in the next four years.
If all of that sounds intimidating, it's because it is, but consider the horizon that stretches ahead of us. We live in an era of ingenuity: 2019 saw more patents filed in the United States than ever before, with well over three hundred thousand patents granted, a 15 percent increase from the previous year. And even with the economic turmoil caused by the pandemic, 2020 still saw a 5% increase in US patent applications. We're not expecting that train to slow its course at all in 2021.
Consider, too, the opportunities within these manufacturing trends. While the proliferation of IoT and Industry 4.0 might seem like a nonstop marathon of avoiding obsolescence, the new technologies offer the stuff-makers at least one major new advantage: data. You might think of data analytics as a distributor's game, but IoT systems also provide invaluable information to manufacturers about how their end users are buying and interacting with their product. This allows them to more quickly adjust to market demands and changing tastes, rather than having to simply go off last year's numbers. Just make sure to use all that information responsibly, or it can lead to some major discomfort among your end users.
How: Resilience and Robots
Even more significant than what's being made now are the changes in how it's being made. No industrial revolution is solely about the end product—it's also about the process of making that product. Look, 2020 was bad – you don't need us to tell you that. But the real economic impact the year has left is leading manufacturers to look at how they can become more resilient and adaptive.
Just as the stuff that's being made is getting smarter, artificial intelligence and IoT are finding their way onto the factory floor. I know in the past this blog has engaged in some lighthearted panic about how the robots are definitely taking over the world, and while I'm still one hundred percent terrified about that, some aspects of this evolution are undeniably positive for businesses and workers and creating helpful manufacturing trends.
Incorporating AI and other "smart" tech into manufacturing processes helps maximize efficiency and safety on the job (especially important given COVID concerns) and even offers predictive maintenance for machinery. In its 2021 Manufacturing Industry Outlook, Deloitte noted that manufacturers are looking for innovative ways to protect their businesses against disruptions, such as shoring up digital infrastructure or finding new ways to gain intel on the health of their supply chains.
As always, this change is a process, not an overnight transformation. In yearly industry report, the British publication The Manufacturer reported that 81% of UK manufacturers believe that incorporating digital technology into the factory will enable business growth across the board – though it noted that plenty of small- and mid-size companies are unsure of how best to accomplish this goal.
Who: The Choice is Yours
We'll see the other side of this coin when we talk about distributor trends, but after decades and decades of rock-solid partnership, the relationship between manufacturers and distributors is starting to get…complicated.
That's because many manufacturing trends today are defined by one word: Amazon. Amazon changed the game when it redefined eCommerce into a streamlined, all-in-one, irresistibly convenient option for consumers and then for businesses with Amazon Business. We've talked a lot in the past about the rise of eCommerce and direct-to-consumer (DTC) selling and what they mean for distributors, but what does it mean for manufacturers?
In the chart below, put together by Distribution Strategy Group, we see the new and growing trends for manufacturer distribution.
Manufacturers have a choice to make moving forward: stick with what's always worked, or dump distributors (in some capacity) and connect directly with end users. Going DTC can seem like an attractive option moving forward for a number of reasons. Cutting out the third party doesn't just have the potential to raise your profit margins, it puts you in direct contact with your end user, which can offer you major insights into how your product is being bought and used. Sounds like a pretty good deal, and, in fact, Forrester predicts that indirect sales will decrease every year for the next decade in favor of the marketplace model like Amazon's.
At the same time, though, deciding to go DTC involves dramatic investment in new resources, people, and tech. And developing an online presence so your customers can read up on you prior to buying. And potentially redesigning your entire eCommerce infrastructure, if you even have any.
However, where we land, according to the above chart, is in marketplaces. These marketplaces are attractive to both buyers and sellers because of their ease of use and lower cost of standing up.
Oh, you want to go through Amazon Business? Enjoy competing with Amazon's own original products. These challenges might be easy to overcome for industry giants like Tesla or Nike, but if you're a small or midsize company you might decide the risk isn't worth it and you'd rather work within your current distribution channel.
Conclusions: Manufacturing Outlook Uncertain?
Even as many sectors are looking towards the future with a sense of cautious optimism, it seems like leaders in manufacturing are still holding their breath. It's going to be a long climb back to pre-pandemic levels of prosperity, but business leaders are ready to take up the challenge, and may even be able to innovate their practices in ways that will make them even stronger moving forward.
Data analytics and enhanced "smart" tech in shop floors allow manufacturers to adapt more quickly and smoothly to market volatility and changing end user tastes. There will always be new challenges that arise within a given industry as time goes on. But there are steps manufacturers can take to help move their employees, channel, and product into the new Industrial Revolution.
Worried about communicating the technological complexities of your product? Consider setting up a channel enablement program with your distributors. Or maybe you're thinking about adopting the DTC model—consider how an incentive program can give valuable insights into end users' buying habits.
If you're interested in finding out more about trends in manufacturing, or in learning more about how an incentive program can benefit your business in changing times, book a meeting with an incentive expert.