FUTURE EVENTS
---
HARDI National Conference
December 1st-4th, 2018
HMI will return to Austin, TX this December to participate in the HARDI National Conference and present several HARDI member's successful incentive programs in their Proven Vendor Showcase. We hope to see you there! Check us out at booth #447.
RECENT EVENTS
---
National Pronto Fall Shareholders Conference
September 26th-28th, 2018
HMI attended Pronto's Fall Showcase this September to continue promotion of three key incentive programs we've developed for Pronto Members: the Premier Partner Rewards Program, On the Go with Pronto Travel Program, and Promo2Go! turn-key incentive solution.
HMI's National Sales Meeting
August 13th-17th, 2018
HMI hosted its annual National Sales Meeting in June at the beautiful Endicott House in Dedham over the Summer and shared upcoming advances at HMI and held exciting brainstorms about what our team is seeing in the incentive marketplace. To see images of the event, click here.
Every year, HMI celebrates its own in recognizing stellar achievement for our core principals: Friendliness, Responsiveness, and Expertise. During our annual all-employee dinner, we recognized the following employees:
Friendliness – Chris Largent
Responsiveness – Nancy Sheppard
Expertise – Beth Gustin
HMI also recognized two sales people for years of service awards which included:
13 Years Achievement of Sales Excellence – Mike Dey
12 Years Achievement of Sales Excellence – Brian Szymanel
IMA Summit 2018
July 23rd-25th, 2018
As a winner of last year's IMA Circle of Excellence Award, we were happy to be attending the IMA Summit in Newport Beach, CA for the second year in a row, where we were able to add three more awards to our award shelf! We were the recipient of the Circle of Excellence Award in 3 distinct categories: "Dealer/Distributor Incentives," "Sales Incentives," and "Other – A/B Testing Program." The program that was submitted was a highly successful A/B Testing Program that ran for 6 months and focused on pushing product up-sell and fostering customer loyalty.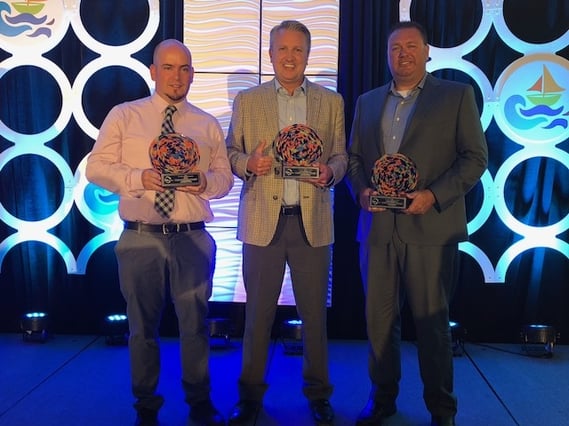 PAST EVENTS
---
HARDI Emerging Leaders Conference
July 22nd-24th, 2018
HMI attended HARDI's Emerging Leader Focus Conference in Ohio. There, our team member had the opportunity to network and brainstorm with HVAC thought leaders and see how both distributors and manufacturers are working to future proof themselves.
HARDI Sales & Marketing Conference
June 3rd-5th, 2018
HMI attended the HARDI Sales & Marketing Conference, this year in Miami, FL to promote performance incentive solutions for the HVAC industry.
Mahindra's Partner Show
May 7th-9th, 2018
We were thrilled to be invited to Mahindra's Partner Show in San Antonio, TX, as the newest member of the Mahindra partner network. HMI was there to promote the upcoming Mahindra Rewards Program and Mahindra President's Club travel program.

The Group Spring Conference & Expo
April 9th-12th, 2018
HMI exhibited at The Group Spring Conference & Expo in Grapevine, TX hosted by Pronto and Federated Auto Parts, where we had the opportunity to showcase the Pronto Premier Partner Rewards Program, On the Go with Pronto Travel Program, and Promo2Go! turn-key incentive solution.

LBM Advantage Annual Meeting & Trade Show
February 19th-20th, 2018
HMI and business partner, TIMBR, exhibited at the LBM Advantage trade show to showcase the National Buying Power Travel Rewards Program in Orlando, FL.
International Roofing Expo with Polyglass
February 6th-8th, 2018
HMI sales team members attended the International Roofing Expo on behalf of our client, Polyglass, in New Orleans, LA. They were there to help promote Polyglass's points-based reward program, Q Rewards, and the new Snap2Claim invoice submission solution. Booth visitors participated in and interactive Spin2Win game with bonus point prizing for new program enrollees and current program participants.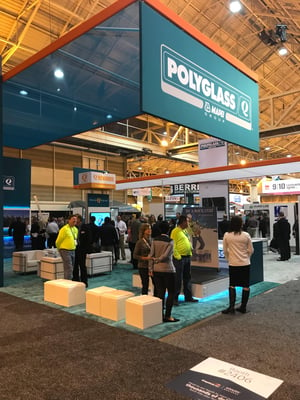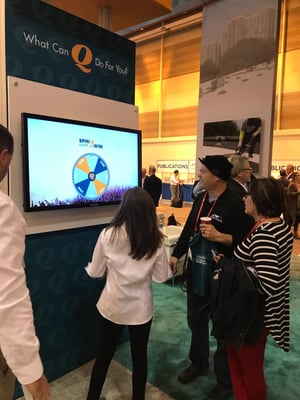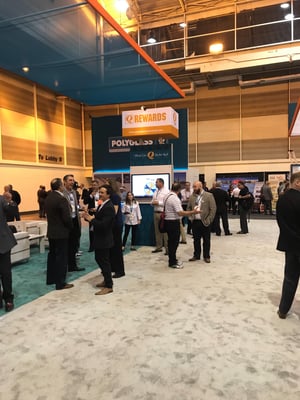 HARDI National Conference
December 2nd-5th, 2017
HMI was pleased to participate as a Track Sponsor at the HARDI National Conference in Las Vegas, NV.
HARDI Sales and Marketing Conference
September 17th-18th, 2017
HMI presented a session entitled "How to Architect a Dealer Incentive Program Using Performance-based Budgeting" at the HARDI Sales and Marketing Leadership Conference in Philadelphia, PA.

National Pronto Fall Shareholders Conference
September 13th-15th, 2017
HMI offered incentive program solutions to National Pronto Member organizations during the Shareholders Conference in National Harbor, MD.
HMI National Sales Meeting
July 25th-27th, 2017
HMI hosted its National Sales Meeting at the historic MIT Endicott House located just minutes from Boston. HMI's newest incentive program enhancements and new product launches were reviewed and met with high marks.
IMA Annual Summit
July 25th, 2017
HMI and its client, Eaton Lighting, attended the IMA Annual Summit in Orlando, FL to receive the IMA Circle of Excellence Award in the category of Dealer Distributor Incentive for their "Get In. Get Away." short-term promotion.
Pure Storage Accelerate 2017 Conference
June 12th-14th, 2017
HMI thought leaders attended Pure Storage's Accelerate conference in San Francisco, CA to offer incentive program insights.